Civil Engineering
Department Details
Facilities
Faculties

Academic Calendar

Syllabus

Events

TimeTable

Industry Advisory Board
Undergraduate / Postgraduate Programmes
| | |
| --- | --- |
| Programme | Civil Engineering |
| Year of starting | 2009 |
| Level | UG |
| Intake | 60+3+15 (Approved Intake+TFW+EWS) |
| Contact Email | hodcivil@gecv.ac.in |
Vision
To produce engineers who have leadership qualities and professionally competent to meet challenges of modern society and global needs.
Mission
To impart quality and real time education to contribute to the field of Civil Engineering inculcating moral and ethical values among the students.
To enhance research & consultancy resulting in solving problems of modern society and civil engineering infrastructure global needs.
Program Educational Objectives (PEOs)
Impart quality education and knowledge in contemporary science and technology to meet the challenges in the field of Civil Engineering and to serve the society.
Impart the knowledge of analysis and design using the codes of practice and software packages.
Indoctrinate the sense of ethics, morality, creativity, leadership, professionalism, self confidence and independent thinking.
Galvanize the students to take up higher studies and innovative research projects.
Program Specfic Outcome (PSOs)
Students have the ability to apply the knowledge of Physics, Chemistry, Mathematics, Programming Skills and Soft Skills to solve Civil Engineering problems.
Student has the proficiency in streams of Civil Engineering to visualise and execute the systems for sustainable living.
The student has the practical knowledge and experimental skills to tackle Civil Engineering problems using technical and management skills, exhibiting professional ethics to meet the societal needs.
The programme enables the faculty to develop academic proficiency by involving in research & innovation, interaction with industry and professional bodies through technical advice and Continuing Education Programs (CEP) to meet the needs of the user system.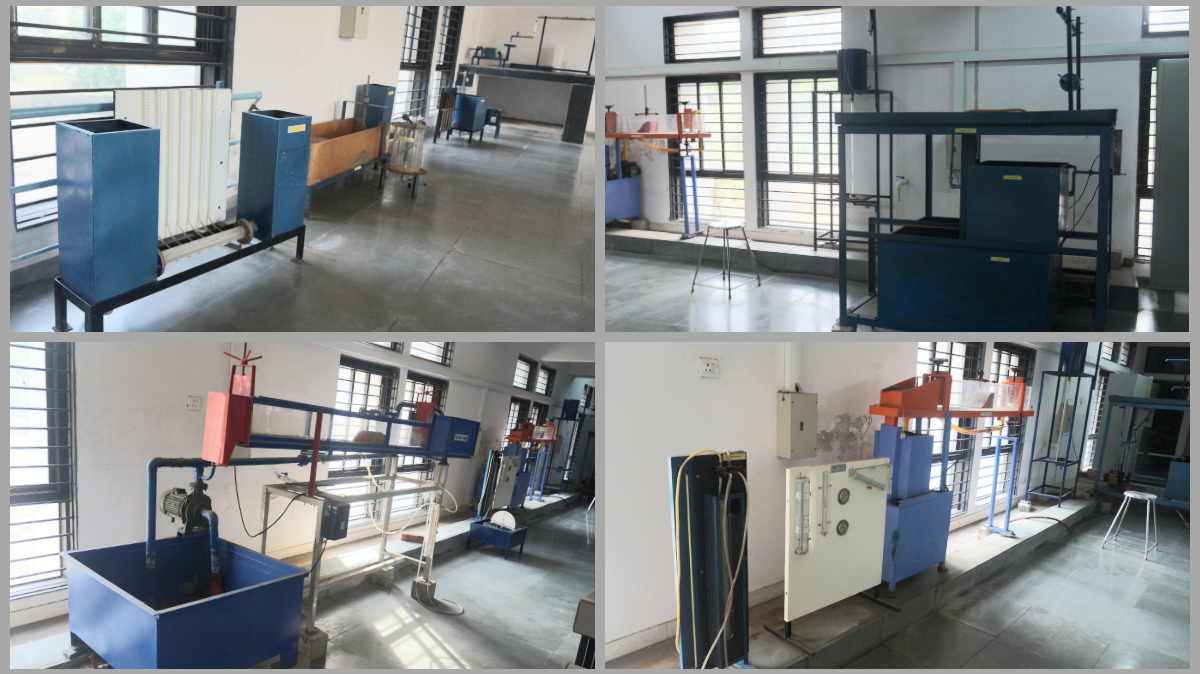 Fluid Mechanics Laboratory
The laboratory is equipped with various equipments, which enable students to comprehend and understand properties of fluids such as discharge co-efficient, verification of Bernoulli's theorem, types of flow pattern etc. Major Equipment in the laboratory includes: Universal Hydraulic bench, Reynold's experimental set-up, Pitot tube, Tilting fume, U-tube manometer, etc.
Mechanics Of Solids Laboratory
The laboratory is equipped with various equipment, which enable students to comprehend properties of different materials such as hardness, elasticity, ductility, different types of stresses etc. Major Equipment in the laboratory includes: Universal Testing Machine, Rockwell cum Brinell Hardness Testing Machine, etc.
Computer Laboratory
The Computer Laboratory of the department is well equipped with modern technologically advanced computer systems along with high speed internet connectivity. The computer systems has major civil engineering application based softwares which includes: Auto-CAD, MAT Lab, etc. The laboratory facility is made available for the use of the students and they utilize the facility to enhance their knowledge, for their project work and for other academic related activities.
Geotechnical Engineering Laboratory
The laboratory is equipped with basic and advanced equipment related to the field and laboratory investigation for engineering properties of soil. Laboratory also has various digitalised equipment to match the need of current professional practices. Major Equipment in the laboratory includes: Consolidation Test Apparatus, Universal Automatic Compactor, Direct Shear Test Apparatus.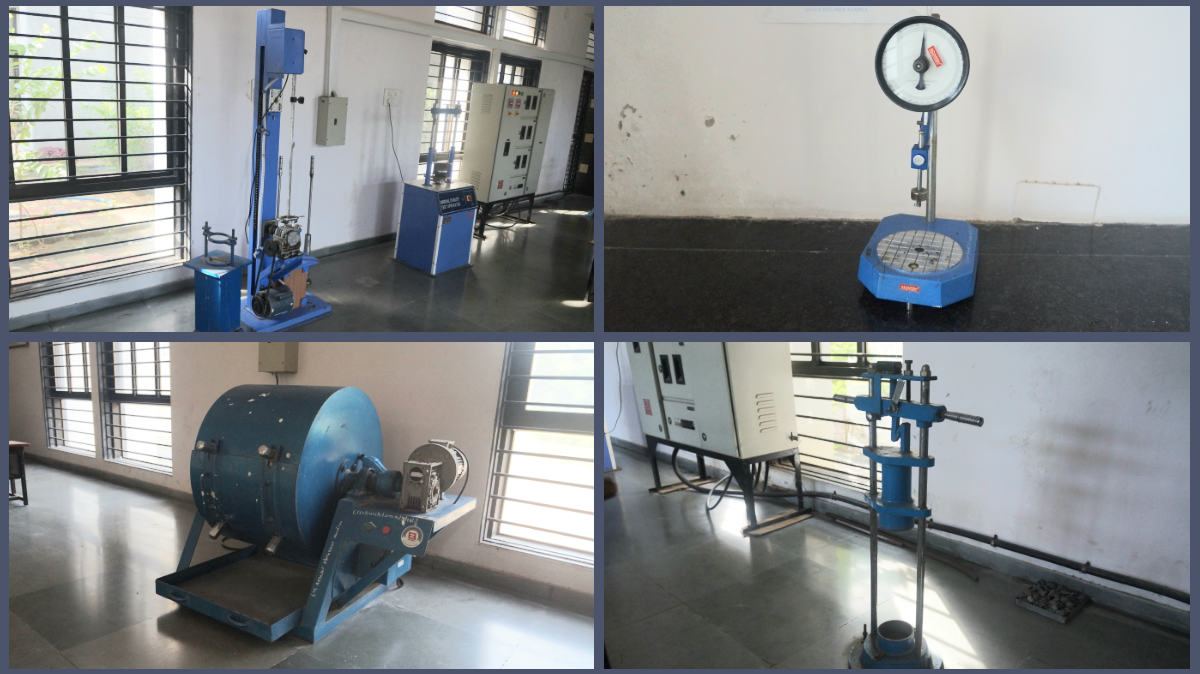 Highway Engineering Laboratory
Highway engineering engineering laboratory is equipped with various instruments related to testing of pavement materials and bituminous mixes. Major Equipment in the laboratory includes: Los Angeles Abrasion Testing Machine, Marshall Stability test apparatus, Manual Standard Penetrometer, Ductility Apparatus, Flash & fire point Apparatus.
Concrete Technology Laboratory
The Concrete Technology laboratory is equipped with basic as well as advanced facilities related to field and laboratory testing for evaluation of properties of cement, aggregate, admixture and concrete. Major Equipment in the laboratory includes: Compression testing machine of capacity 3000 kN, Flexure testing machine, Accelerated Curing Tank, Self Compacting Concrete testing facilities, Tile abrasion testing machine, facilities for manufacturing and testing of paver blocks, AAC blocks, etc.
Surveying Laboratory
Surveying Laboratory facilitates students to understand the fundamentals of land measurement and also caters to the advanced survey techniques like Remote Sensing, GIS, GPS, used in the field . Major equipment in the laboratory includes: Total Station, GPS Receiver, Automatic level, Digital Planimeter, Transit Vernier Theodolite.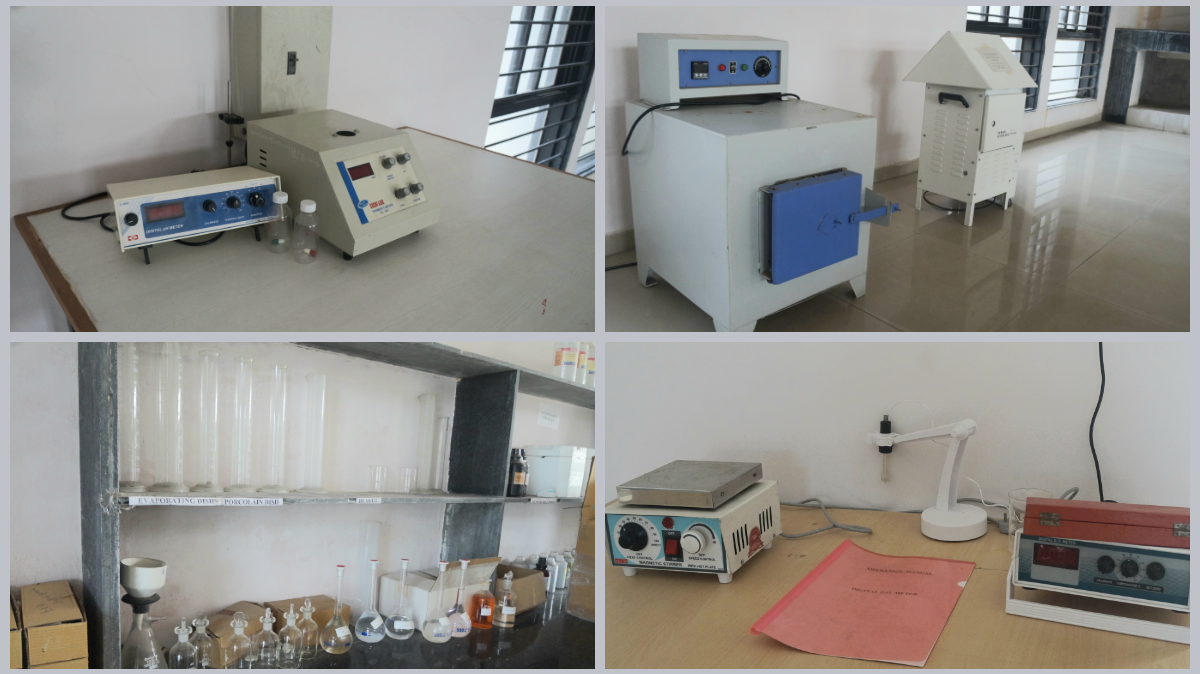 Environmental Engineering Laboratory
Environmental Engineering Laboratory is equipped with different equipment to measure the quality of air, water and noise. The laboratory also cater the test facilities related to environmental audit. Major equipment in the laboratory includes: Digital pH Meter, Digital Conductivity Meter, Digital TDS Meter, Digital Nephelo Turbidity Meter,Fine Particulate Sampler 2.5, Respirable Dust Sampler and Sound Level Meter, DO meter, Muffle furnace,Vacuum pumps.
Transportation Engineering
Transportation Engineering lab manual
Remote Sensing & GIS
Remote Sensing & GIS Lab Manual