Chemical Engineering
Department Details
Facilities
Faculties

Academic Calendar

Syllabus

Events

TimeTable

Industry Advisory Board
Undergraduate / Postgraduate Programmes
| | |
| --- | --- |
| Programme | Chemical Engineering |
| Year of starting | 2004 |
| Level | UG |
| Intake | 120+6+30 (Approved Intake+TFW+EWS) |
| Contact Email | hodchemical@gecv.ac.in |
Tour to Chemical Department
Vision
To be a hub of creative learning to prepare globally acceptable professional chemical engineers with ethics and integrity.
Mission
To inculcate quality education to students through open access laboratories and resources.
To develop team work, leadership quality and entrepreneurial aptitude among students and prepare socially responsible professional chemical engineers.
To strengthen linkages with industries by partnering in collaborative projects and research.
To develop ecosystem for innovative sustainable solutions to social problems.
Program Educational Objectives (PEOs)
To prepare graduates who will be able to apply the fundamental knowledge of chemical engineering to solve practical problems of chemical Industries.
To prepare professional chemical engineers with creativity to contribute in chemical engineering and allied research.
To prepare graduates who will be potential academicians, or entrepreneurs with socio-economic responsibilities.
Program Specfic Outcome (PSOs)
Graduates will be able to apply concept of process design, synthesis, control, simulation and optimization to solve chemical engineering problems.
Graduates will be able to apply their chemical engineering skills in dealing with social, industrial and environmental requirements towards sustainable development.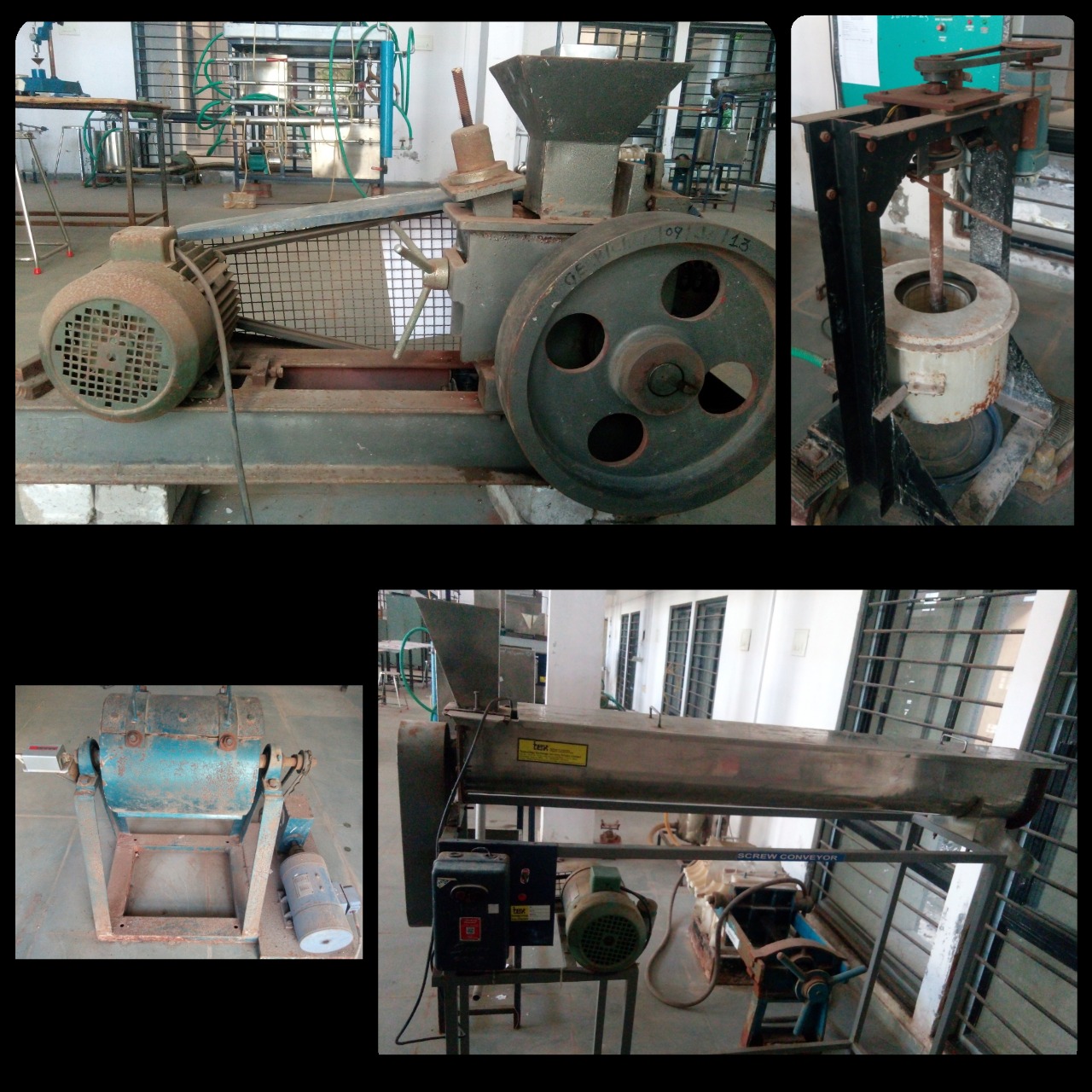 Mechanical Operations laboratory/ Â Particle and Fluid Particle Processing
This Laboratory impart the practical knowledge and hands on practice on various mechanical operations, which is having wide applications in process industries. Mechanical operations with practical exposure help students to understand the importance, basic concepts and principles of size reduction, size separation, settling and sedimentation, filtration etc. The Laboratory is well equipped with Jaw Crusher, Ball Mill, Pulveriser, Froth Flotation Apparatus, Cyclone Separator, Basket Centrifuge, Belt Conveyor, Screw Conveyor, Fluidization Unit, Horizontal Plate and frame filter Press, rotary drum vacuum filtration unit, settling and sedimentation unit etc.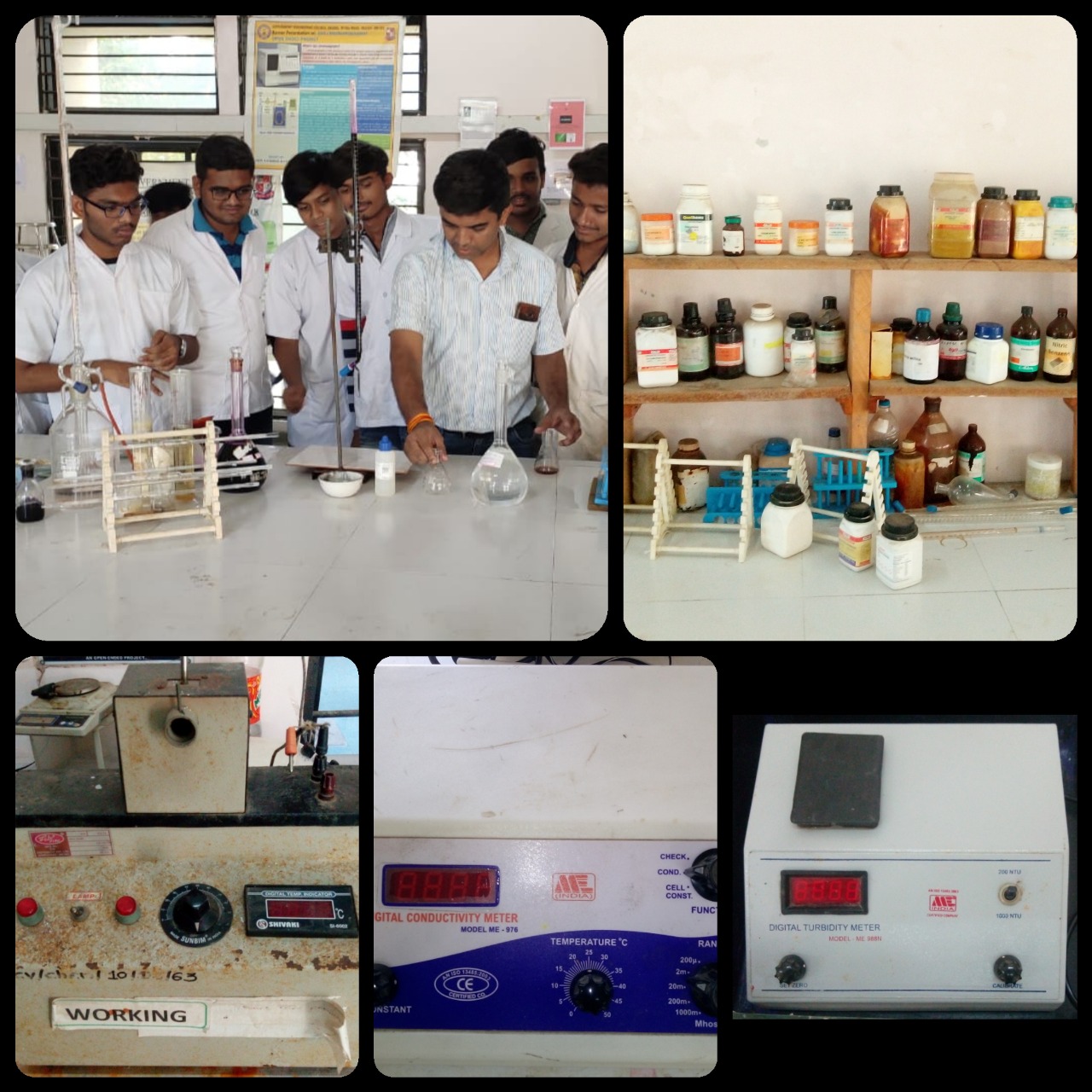 Chemistry
This laboratory contains a wide range of experiments illustrating the basic principles of Chemistry / Applied Chemistry / Unit Processes & Chemical Technology. Students can refine their theoretical knowledge with practical application. The laboratory also provides students the opportunity to perform mini projects in different areas such as natural products, industrial chemistry, organic dyes and drugs compounds etc. The laboratory has facilities of various equipments and instruments such as BOD incubator, COD apparatus, melting point apparatus, TDS meter, turbidity meter, conductivity meters, pH meters, kjeldar apparatus, UV cabinet, water soil testing kit, Dissolved Oxygen meter, colony counter, potentio meter, soxhelt apparatus and heater, refractometers, analytical weight balance, and so on. Students also receive training in lab safety, good lab practice, lab techniques and use of lab instruments.
Fluid Flow Operations Laboratory
The fluid flow operations laboratory provides hands-on experience to undergraduate students. The important experimental facilities provided in laboratory include: hydraulic bench, U-tube and inclined manometer, drag coefficient apparatus, flow measurement using venturimeter, orifice meter and rotameter apparatus, friction losses in pipeline and fitting fittings and joints etc. Students can practically interact with the fluid flow problems and various instruments used to measure the flow properties. Some models and cut sections of valves and pumps are also displayed to equip the students with better understandings of theory and practical problems.
Chemical Process Industries
Chemical Process industry lab is facilitated for lab scale synthesis of various chemical intermediates and products, like dyes, drugs and soaps. Chemical Process industry lab also provides the practical understanding of separation science, measurement, chemical analysis. It features laboratory exercises in subjects of basic production processes in the Organic and inorganic Chemical Industry. Students receive hands on training pertaining to the operation and use of lab instruments.
Chemical Reaction Engineering Laboratory
Reactor operation is very important and crucial part of any chemical plants. The department is having a separate chemical reaction engineering laboratory which is intended to introduce undergraduate students to the areas of chemical reaction kinetics and reactor operation. The Laboratory is well equipped with different reactor set up such as continuous stirred tank reactor (CSTR), adiabatic batch reactor, plug flow reactor (PFR), reactors in series, open tank reactor, combined CSTR with PFR, agitated vessels etc. to conduct experiments that deal with reactions at different temperatures and pressures. With practical exposure students also get training in lab safety, good lab practices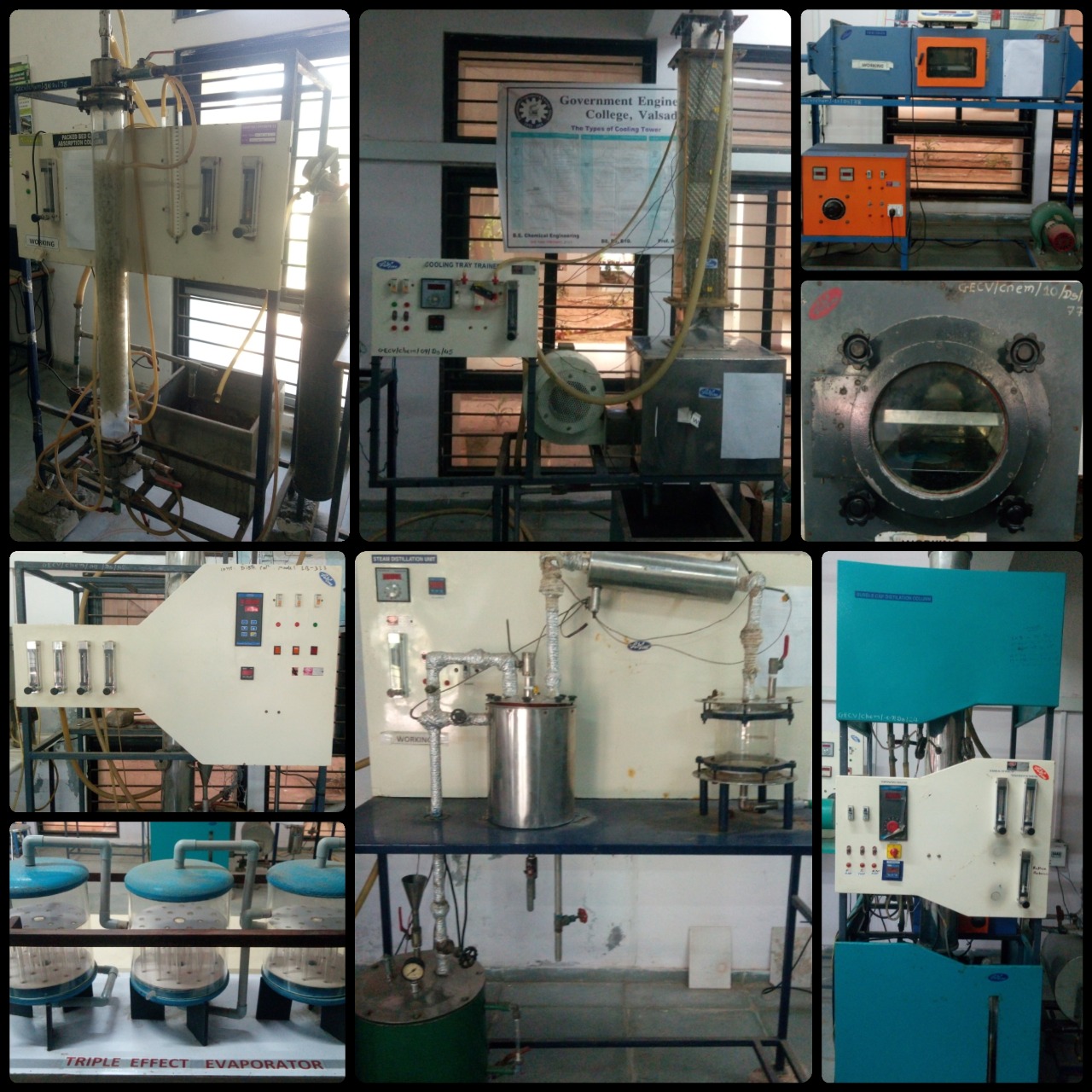 Mass Transfer Operations
The mass transfer laboratory caters the need of hands on practice of various mass transfer operations. The laboratory is well equipped with the experimental set ups related to different mass transfer operations like simple distillation, steam distillation, liquid – liquid extraction, diffusion co-efficient for liquid-liquid, gas liquid system, liquid extraction spray column, bubble cap distillation column, cooling tower trainer, vapour liquid equilibrium, hot air oven, continuous distillation column, packed bed gas absorption column, vaccum dryer with vaccum pump, tray dryer, leaching experiment (solid-liquid), electronic weighing balance, ebulliometer to generate VLE data, distillation control trainer etc. The laboratory also provide platform to the students to carryout mini projects effectively.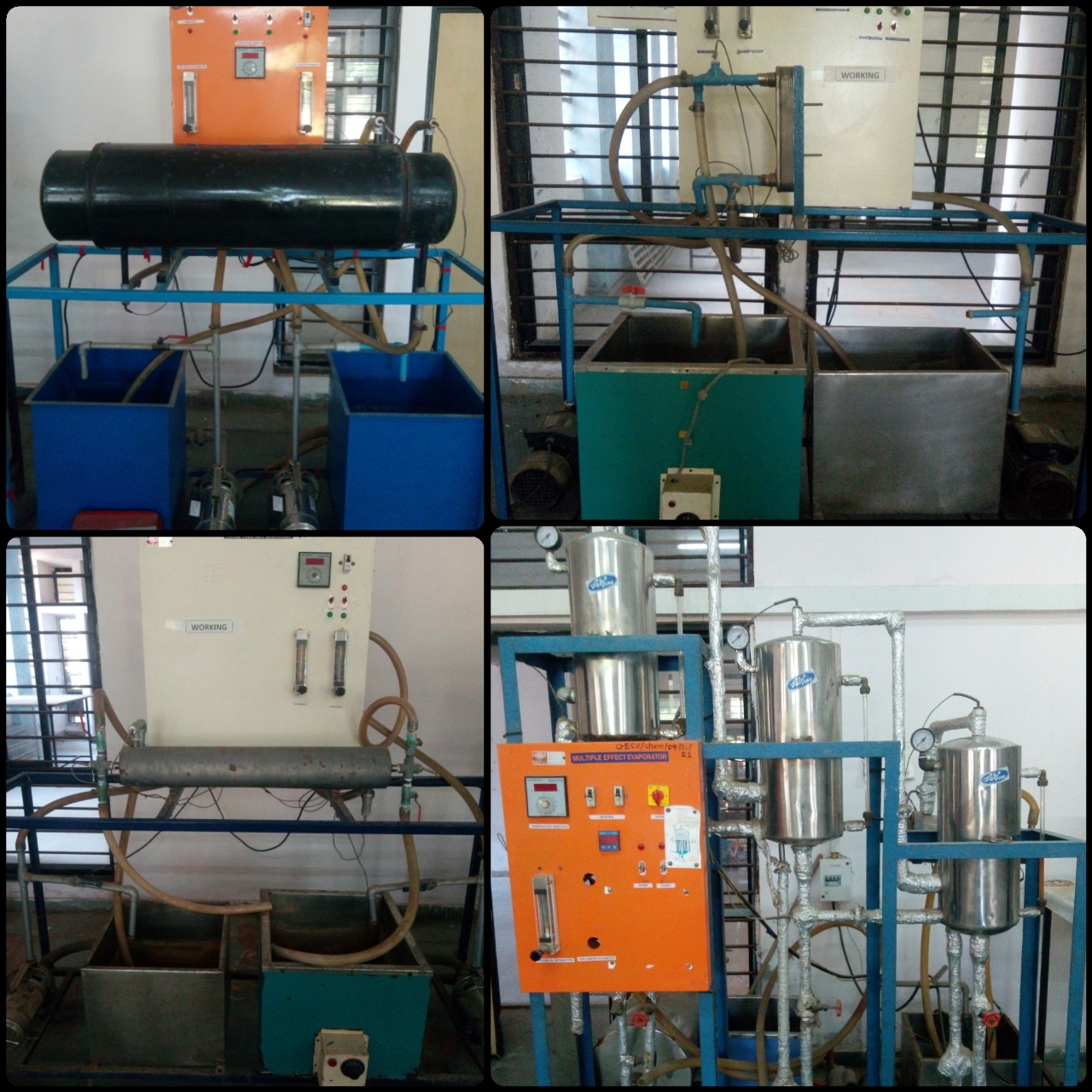 Process heat Transfer
Heat transfer laboratory provides fundamental knowledge of heat transfer, operation of heat transfer equipment and their industrial applications. This laboratory is well equipped to help supplement the lectures, and test with various experimental set ups such as thermal conductivity of composite wall, heat transfer in forced convection, shell & tube heat exchanger, Stefan Boltzmann constant apparatus, heat transfer by natural convection, double pipe heat exchanger, emissivity measurement apparatus, heat transfer in agitated vessels, plate type heat exchanger, multiple effect evaporator, heat transfer from pin fin heat exchanger, open evaporator, thermal conductivity of metal rod, critical heat flux apparatus, vertical condenser, finned tube heat exchanger, thermocouple calibration test rig, etc.
Instrumentation and process Control
The main objective of instrumentation and process control laboratory is to introduce the key concepts in automatic control and instrumentation of process plants as it is being used in almost all the chemical and allied industries today. The well equipped laboratory facility mainly demonstrates steady state and the dynamic behavior of chemical processes. The instrumentation part will elaborate the valve characteristics along with the working principle, specifications, design and selection aspects of various measuring sensors. The Process Control Laboratory is equipped with a variety of instrumentation and control equipment such as First Order systems: Thermometer, liquid level system Second order system: U tube manometer, and other equipments such as thermocouple test rig, and measurement of level with air purge method, interacting and non interacting system apparatus, dead weight tester etc.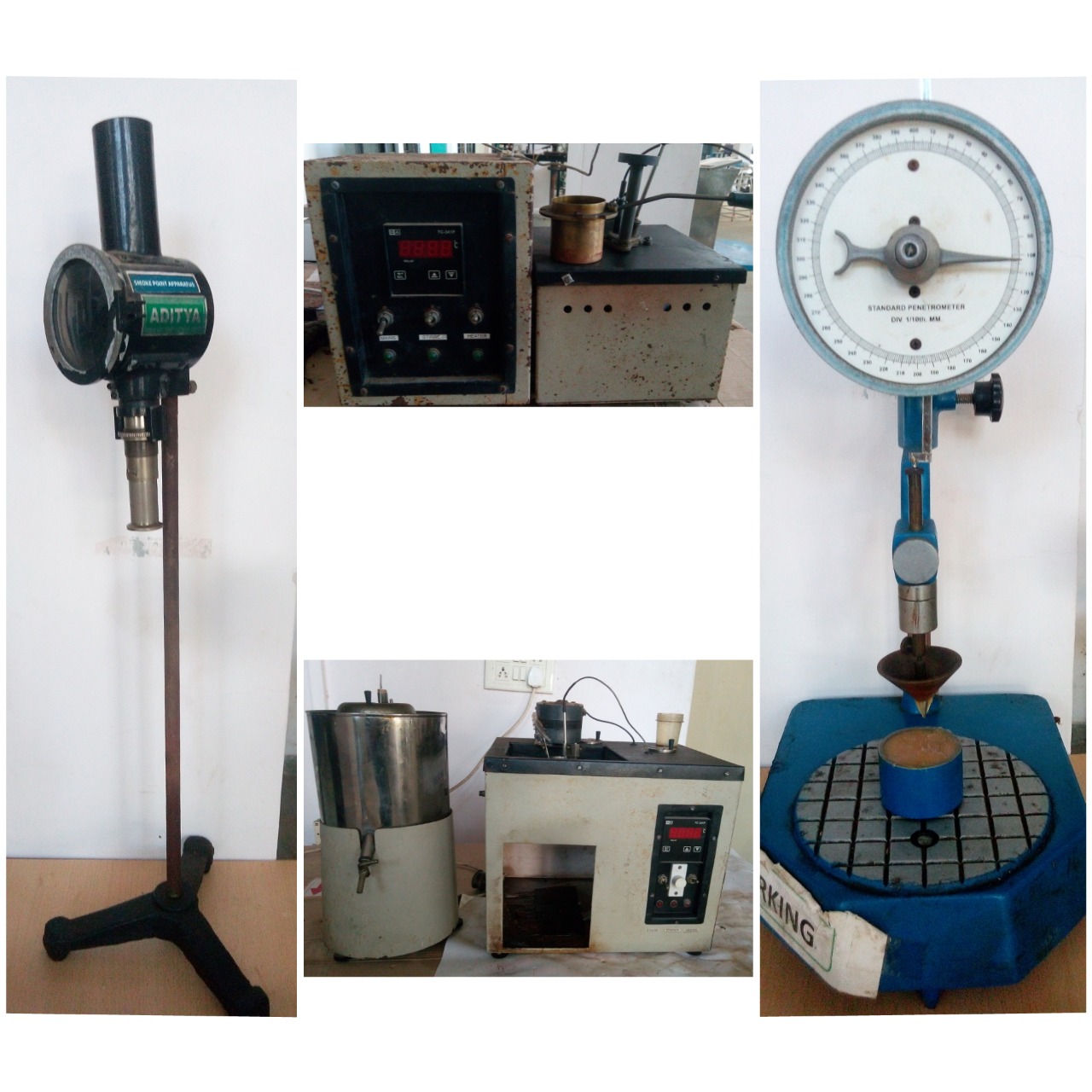 Petroleum refining and petrochemicals
Petroleum refining and petrochemical laboratory make conversant the students about petroleum products, their properties and characteristic testing methods, and refining processes. Petroleum refining laboratory includes various standardized instruments for testing of petroleum products such as digital bomb calorimeter, penetrometer apparatus, softening point apparatus (ring & bolt), redwood viscometer, pensky martin apparatus, aniline point apparatus, cleveland open cup flash point tester, smoke point apparatus. With practical exposure students also get training in lab safety, good lab practices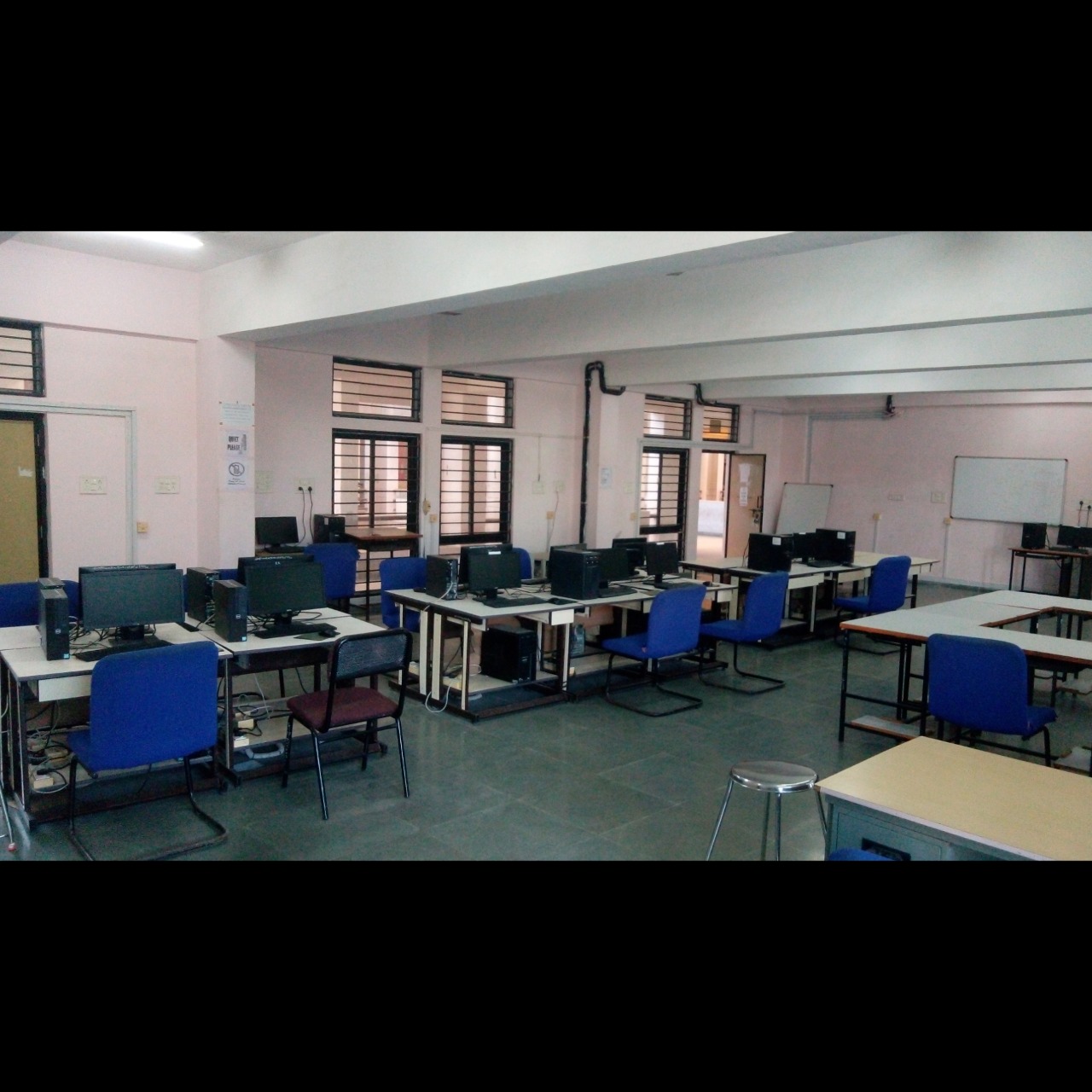 Computer simulation and optimization laboratory
Computers become an essential part of our life and it is an integral part of engineering. Different concepts of chemical engineering become very easy with computer graphics and simulation. Chemical engineering department is facilitated with high internet speed desktops with software such as ANSIS Real Time Simulator for Process Control Experiments, MATLAB, Scilab and GAMS for General Purpose Programming and Optimization, Chemsep, Property estimator used the for designing of process equipments. Virtual lab experiments are regularly carried out for different subjects.